Welcome
Click on the Picture for more information concerning the 2018 IESMA Training Summit!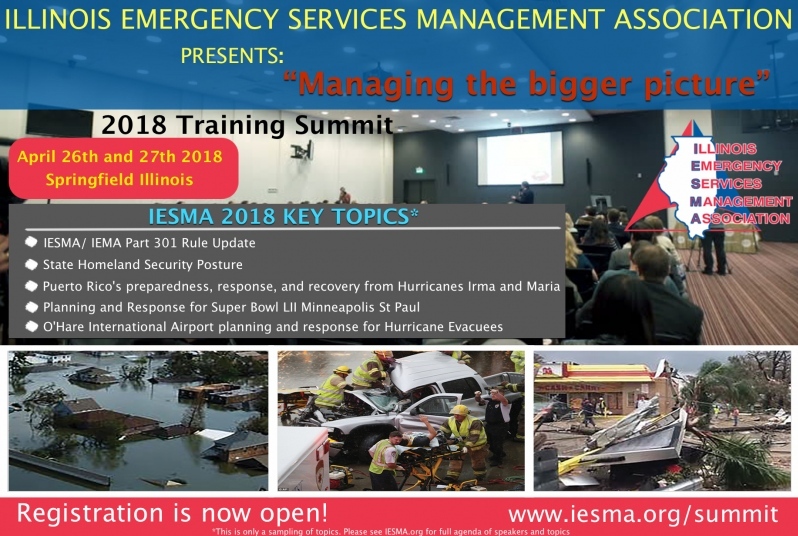 MESSAGE FROM THE PRESIDENT

Welcome to the Illinois Emergency Services Management Association website. Our goal for this site is to provide the best possible online information sharing platform to support our members and local emergency managers throughout the State of Illinois. Please take advantage of the many useful items contained within the site and your IESMA member login section.

IESMA is the voice of local emergency management in Illinois. Since 1965 it has been our mission to coordinate the efforts of our members in a common cause to help protect the lives and property of those we serve. Should you require any additional information that is not contained on this website, please contact your IESMA Regional Vice President or a member of our Executive Staff.

I truly hope you find this site beneficial and we look forward to serving you for many years to come.

Ron Graziano
IESMA President

News
IESMA Accepting Award Nominations

Nominate your pick for the best of best in Illinois Emergency Management.

Tuesday, March 13, 2018

Brig. Gen. William P. Robertson as IEMA Acting Director

Click for more information from Gov. Rauner.

Friday, March 02, 2018

Remembering Coordinator Richard Utter

Remembering Richard Utter, Schuyler County ESDA/EMS

Thursday, March 08, 2018

Remembering Director James Lutz

Remembering James Lutz, Grundy County EMA

Monday, February 05, 2018

IESMA Training Summit Attendee Registration

Click here to register to attend the 2018 IESMA Training Summit

Wednesday, February 28, 2018

IESMA Training Summit Vendor Registration

Interested in showcasing your business at the upcoming Summit? Click on the link for more info!

Friday, February 09, 2018

SWIC Releases FirstNet Educational Video

Click here to view the new video.

Friday, September 30, 2016

Hazard & Functional Cards Available

IESMA has joined with the IEMA Strategic Planning Cell to announce the availability of additional resources for local emergency management. Click on the story to learn more!

Tuesday, March 24, 2015
Coming Events
IESMA Awards Submission Deadline
03/23/18
IESMA will accept nominations for the following awards until 3/23/2108 at noon.
more info...

2018 IESMA Training Summit
04/26/18 - 04/27/18
Rick Grah
more info...